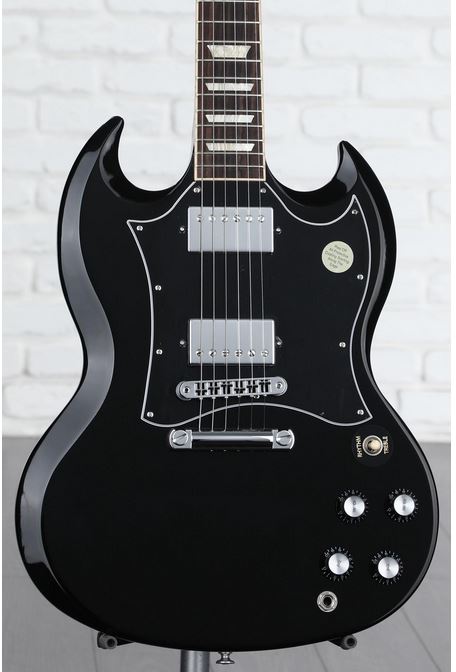 "Back in Black…and Heritage Cherry! The Gibson SG Standard rocks the classic looks and features associated with the late 60's style SG models sought after by many. A rounded profile mahogany neck, bound rosewood fingerboard, long tenon 19th fret neck joint, and a solid mahogany body provide the backbone for singing sustain. The 490R and 490T Alnico II pickups provide the power to drive. A black, 5-ply, full-face pickguard set this SG Standard apart from others... a truly versatile classic."
------------------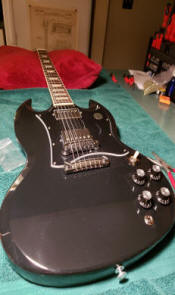 After buying my SG Junior and being quite happy with it, I started eyeing the Original Collection SG with the stopbar tailpiece. This wasn't too long after I dropped the Phat Cats into the Les Paul Traditional so I thought about getting a new SG Standard and putting Phat Cats into it. And I thought about getting the OC SG and putting Phat Cats into that. Also, I was missing my old SG Classic so I thought I could convert this into a Special since they have pickguards already cut out with the proper P90 spacing. Decisions, decisions. I thought if I'm going to modify a guitar, I may as well go with the cheaper model in case something goes sideways, so I opted for the Standard even though I'm not a fan of the big pickguard. As far as colour selection, I went with black because I already have two in cherry. The 490s that come with these couldn't have hit the garbage can fast enough. It's light. I'm not sure if most of them are like that but it's great. I think it might be the lightest guitar I own. And the neck is great. It's not a slim taper neck but a nice, rounded neck profile, so maybe I would have been let down with the OC SG. Modifications didn't go as planned at first. I had a look under the pickguard and after being amazed at how shoddy the routing/wood working was (see below), I saw there wasn't a big "swimming pool" route so I couldn't just get P90s and a P90 pickguard and have a Special, so I ordered a set of Phat Cats. I do want to say that I'm not a "single-coil snob". The reason I did it was because, at the time, I already have an SG with humbuckers. If I prefer a single coil, it's only because the pick attack comes out better than a humbucker so you have to be a bit more articulate with the right hand. The trade off is single coils sound nasally compared to humbuckers. And the hum.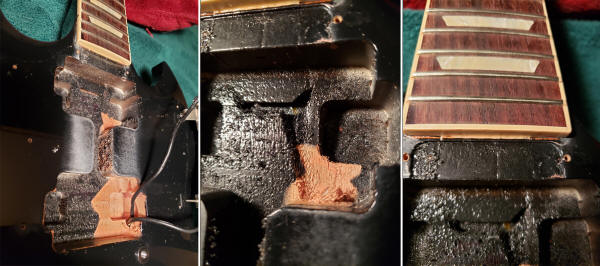 Once the Phat Cats came in, and as I was about to replace the pickups, I got another surprise: it's a QuickConnect system. This wasn't advertised at all. That would be great if they only made after market QuickConnect pickups. It took a little longer for the Emerson wiring kit to come in but in one fun evening, I got the pots and pickups replaced. I know, money-wise, I should have just went with the '61 by then.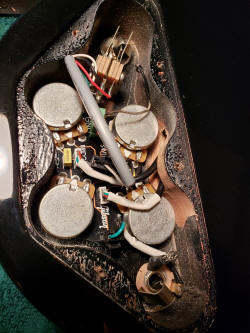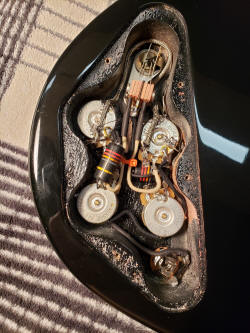 For those new to SGs, use a Les Paul style front pickup ring for the back pickup. Because of the flat body and neck angle, the pickups don't sit level. The front pickup you can recess so it's not too weird looking but the angled pickup ring straightens the back pickup out. The reason you have to use the front pickup ring is because it's smaller and sits at a good height when on top of the pickguard. You might be able to get away with a back pickup ring if you replace the pickguard with a 1 ply guard. I didn't put a ring around the front pickup because a ring's top left edge would hang over the pickguard and it would look silly.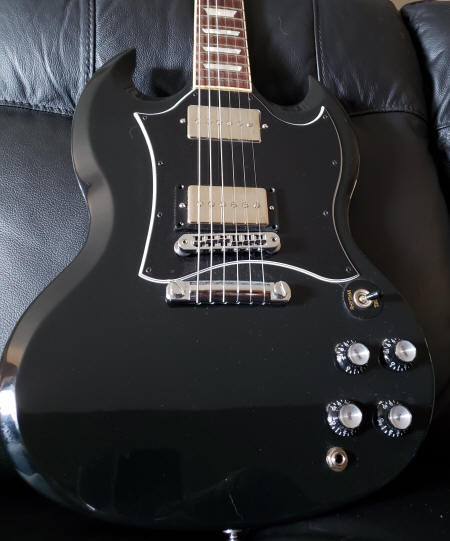 Later, it got the zero fret installed and I put the pointers on the volume and tone knobs. And then I replaced the screws on the pickguard with black ones. It just makes a nice difference. The most recent change to this guitar was replacing the pickups again (July '22). Since I have the
Iommi SG Specia
l now, this guitar doesn't have to be a Special Wannabe anymore. Now there's a BurstBucker 1 in the neck position, and a 59 something or other in the bridge and that's the pickup that came out of my Les Paul Traditional. I bought a trippy brown swirl pickguard from Greasy Groove a couple of months ago and it's a good thing I didn't set up the pickups in that first because, surprise, the screw holes didn't line up. Christ, I'm tired of replacement pickguards never being a replacement. I can understand that from an overseas company since they stricly use metric but I don't think I could excuse a Canadian company, and not at $40 a pop.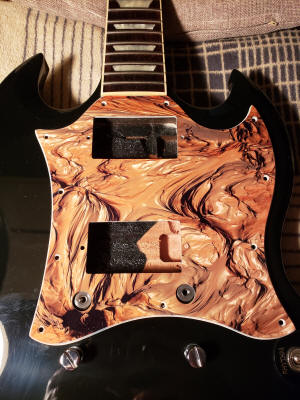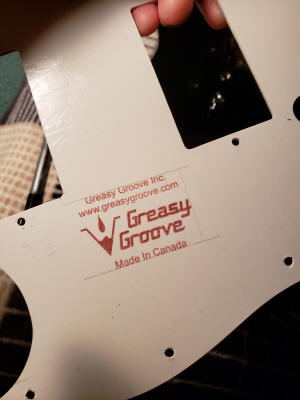 I guess it all worked out because what I was really looking for was a single ply black pickguard. Those are harder to find online than Hoffa's body (and the screwholes would probably be in the wrong place anyways) so I got a black Sharpie out and coloured the pickguard sides. Looks good from far away and close up.
Changes:

Pickups: Seymore Duncan Phat Cats, Emerson pots, ZeroFret,
black screws, pickups again: BB1 in neck position, 59 in bridge position, Sharpie'd the pickguard edges.



2020 Gibson SG Standard (Black)

Serial No: 205100338
Price paid: $1800 Cnd; Bought new 2020; SSC

Body
Body Type: Solidbody Body; Shape: SG Standard
Body Material: Mahogany Body (3 piece); Finish: Gloss Nitrocellulose Lacquer; Color: Ebony

Neck
Neck Material: Mahogany
Neck Shape: Rounded Neck
Joint: Set Neck
Radius: 12"; Fingerboard
Material: Rosewood; Fingerboard Inlay: Acrylic Trapezoids;
Number of Frets: 22, Medium; Scale Length: 24.75"
Nut Width: 1.695"; Nut Material: GraphTech

Hardware
Bridge/Tailpiece: Nashville Tune-O-Matic with Stopbar
Tuners: Grover Rotomatics

Electronics
Neck Pickup: 490R Humbucker; Bridge Pickup: 490T Humbucker Controls: 2 x volume, 2 x tone
Switching: 3-way toggle pickup switch

Miscellaneous
Strings Gibson, .010-.046 Case/Gig Bag Softshell Case Manufacturer Part Number: SGS00EBCH1


After all is said and done, this ended up being one of my surprisingly better purchases. It's a joy to play. Last heard: my version of Albert King's Cadillac Assembly Line (YouTube only)
Back to Guitars